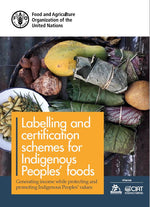 On September 12, 2022, the Food and Agriculture Organization of the United Nations (FAO) published Labelling and Certification Schemes for Indigenous Peoples' Foods, a first-of-its-kind review that spotlighted Keystone Foundation and Last Forest Enterprises.
The publication looked into the role and potential of labelling and certification in marketing traditional foods, highlighting schemes that were designed by, with and for indigenous communities. Socio-economic and environmental gains achieved and ethics promoted by such ventures were lauded. In particular, territorial labels, geographical indications (GI), and participatory guarantee schemes (PGS) were some of the schemes reviewed.
Eleven case studies handpicked from across the global South (Africa, Asia, Central and South America and Oceania) were analysed. One among the chosen was Last Forest Enterprises, whose adoption of the PGS system was commended as a success by FAO.
"[An] example with a clear economic benefit was the Last Forest Products initiative in the Nilgiri Hills, under which the price for a jar of forest rock honey increased by 40 percent in the span of a single year as the product reached consumers through internet stores and local markets."
The book also mentioned social and cultural benefits achieved by Last Forest's model:
"Preservation and exchange of traditional ecological knowledge are criteria in several schemes, with one unique example being traditional rock honey collection in the Nilgiri Hills that is supported through the Last Forest Products label."
"A variety of social benefits can be confirmed… [through] solidarity building among different actors, including consumers and retailers (Last Forest Products in the Nilgiri hills...)." These products include honey, value added beeswax personal care like lip balms, therapeutic balms, soaps, beeswax food wraps, spices, and food products. . 
The book observed several factors to be crucial in the success of the schemes it spoke about, including the leadership and ownership of indigenous communities, and provides possible guidelines for building sustainable markets and risk mitigation.
While indigenous knowledge is slowly being brought back to the forefront, such a focused review of market interactions has not been done before on a global scale. While the demand for traditional foods is trending upwards, studies on how markets can be made more respectful of indigenous values, rights and creativity are few and far in between.
Last Forest was appreciated by the FAO as one of the several case studies that brought to life innovative solutions with a 'territorial' approach – by way of linking products and their intrinsic value to the people, culture and places that made them unique.