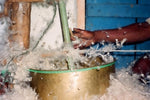 Krishna, the gentle giant, ever soft spoken but with a heart of gold. An anchor for his honey hunting team, his under the breath murmurings, a source of great mirth for all around!
He was a great beekeeper too - a rare feat for a honey hunter and a forager.
When silk cotton ginning was to be done, he would lock himself up in a small room and hum away to glory. A great friend to many of us, he will live long in our hearts!