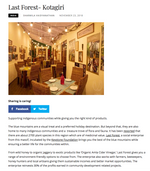 Supporting indigenous communities while giving you the right kind of products.
 The blue mountains are a visual treat and a preferred holiday destination. But beyond that, they are also home to many indigenous communities and a  treasure trove of flora and fauna. It has been reported that there are about 2700 plant species in this region which are of medicinal value. Last Forest, a social enterprise from this massif, incubated by the Keystone Foundation brings you the best of the blue mountains while ensuring a better life for the communities within.
From wild honey to organic jaggery to exotic products like 'Organic Amla Cider Vinegar,' Last Forest gives you a range of environment-friendly options to choose from. The enterprise also works with farmers, beekeepers, honey hunters and local artisans giving them sustainable incomes and better market opportunities. The enterprise reinvests 30% of the profits earned in community development related projects.
In 2015 Last Forest set up Place To Bee, a restaurant that promotes the principles of the Slow Food Movement. Located at their Bee Museum in Ooty, 'Place to Bee' gives Italian dishes a local twist. Over a phone call, I spoke to Aritra Bose, Senior Manager at Last Forest and Manager of Place to Bee about all things local, delicious and definitely not last.